Our New Promotional Video: "Musicians Are Not Born – They Are Made"
Hello everyone,
This has been a great year – and all this could not have been possible without the support of all our followers! The Piano Encyclopedia now has students across 35 countries around the world AND we have collected more than 150 testimonials and success stories!
We are thankful to all our followers, and all those who wrote us words of support and helped us spread the word! All this positive energy has also motivated us to make some great and tempting updates to our Digital Home-Study Course "The Logic Behind Music" and to The Piano Encyclopedia's Community; and to thank all of you, we have made all this upgrades FREE for all our existing customers!
Here is a quick recap of the upgrades and new releases we made throughout the year:
The New Updates of our Course
We have released the two Music Training Suites with fun and entertaining games, namely, The Ear Training Suite and The  Sight Reading Training Suite, which will definitely let you master your sight reading and playing by ear skills by practicing chords, intervals and scales. Each has different features that will surely bring you interactive and enjoyable learning.
We added a  brand NEW Piano gallery with over 1,000 videos! This gallery includes a selection of over a hundred masterclasses from the greatest pianists of all time (Martha Argerich, Daniel Baremboim, Andras Schiff – to name a few) and hundreds of professional piano performances (covering from Chopin, Bach, Beethoven, Schuman, Liszt, Rachmaninoff to Miles Davis, Ray Charles – music for all tastes).
We released the FOUR Harmony Books that contain the harmonization of ALL the scales used in Western Music. Each consists of 70 pages interactive lessons with more than 300 interactive piano animations. All of them have different specialties and trainings but they have one purpose – to show and teach you how to harmonize different scales and compose your own music. Overall, the four books ALONE are comprised of 280 pages of content with more than 1,000 interactive animation activities.
We redesigned our Community and made it look superb! We added new features to make navigation easier and more user friendly.
And even more, we added hundreds of additional interactive animations to our course and expanded many sections with new lessons.
We have heard some marvelous success stories from our dear students. This gives us more inspiration which turns out to be the best thing ever happened at the moment. As we continue to thrive on giving you the best training, we once again, are proud to announce that EVERYTHING mentioned above is now part of  our version 1.5.5 update of our Digital Home-Study Course "The Logic Behind Music" and is being given for FREE to all our existing customers!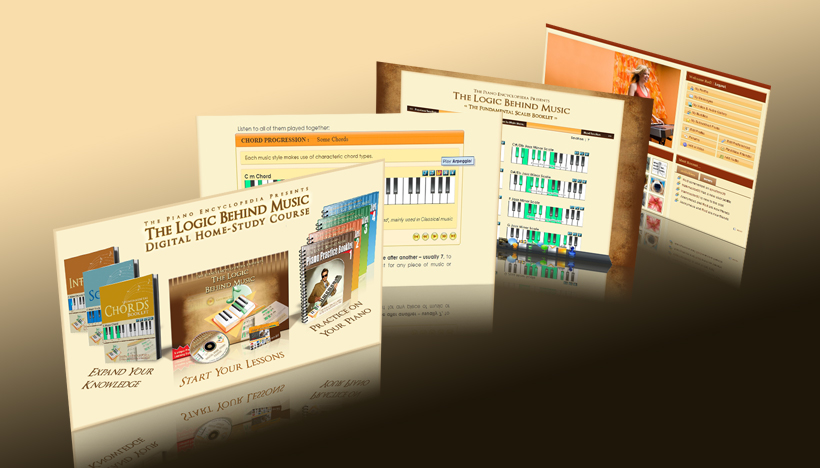 Celebrating Success with our New Video!
And to celebrate all these updates, we have remade the  video-tour of our course! The trailer-like video highlights all the Digital Course's features like its:
More than 1,000 pages of interactive pages of step-by-step lessons
3,000 multimedia piano animations
It also takes the audience through what is inside of the course – the lessons, the piano charts, the menus and all the cool features. Much more, it also brings a sneak peek inside our piano community.
This video is also very special to us. We wrote part of the script when the project was just starting, three years ago. It was a very difficult script to produce and so it was impossible for us to make it at that time; however, now with the help of professional voice over talents and filming, today this video is now a reality!
So what are you waiting for? Hop on over and watch our new promotional video. Just click on the link below:
http://pianoencyclopedia.com/piano-courses/the-logic-behind-music/#video
The Future of The Piano Encyclopedia
We are looking forward to become the best and most complete piano learning experience of the world and so for the next months we are planning to release version 2.0 of our Digital Home-Study Course "The Logic Behind Music" which on top of the thousands of animations and 1000 pages of content it already has, it will include:
+ 3000 (Yes! THREE THOUSAND) New Multimedia Animations that will display Interactive Sheet music. This means that you will be able to  so you can watch all the multimedia examples on interactive music sheet score in addition to the existing animated piano keyboards.

New interactive music games. Next on production line is a very unique animated Circle of Fifths that will teach you how to create your own chord progressions so you can create your own music.
The release of The Piano Encyclopedia's Music Scales of The World interactive book, which will contain all the scales used throughout the world: including all Western scales, Blues and Jazz scales, as well as Spanish, Jewish, Hawaiian scales, all the ragas of  Indian music, as well as rare scales used across different centuries.
Many more surprises we will uncover during the next months 🙂
I hope you like what's coming and feel free to give us your feedback of what you would like to see next!
Cheers! 🙂
Rod Schejtman
CEO & Founder of The Piano Encyclopedia
http://Facebook.com/rod.schejtman