The SECRET Development !
WOW!
During the last few weeks we have received SO many emails from our newsletter members and new site visitors asking us, when will The Piano Encyclopedia be ready, how to get one of the 25 Free copies, and asking for an update on The Piano Encyclopedia development!
We got tons of emails like these ones:
"Hey Rod!
How are you?

I just wanted to check on how the development is going and when it'll be ready…

Thanks!"
… or
"Hi!
I am very interested in trying your product and just wanted to know if you have already started the beta-testing…"
I have personally read them all, but we've received so many emails that I actually couldn't answer all of them yet.
However, in order to thank you even if we haven't replied your email yet, we have added everyone that has sent us emails in the past months to our VIP List. This means that if this is the case, we'll make sure to send you the previews and special content a few days before the public release, before anyone else gets them. J
First of all, I really want to THANK YOU for following The Piano Encyclopedia development, especially if you have been with us from the early beginning.
I know everybody is very excited to get his or her invitation and be one of the first to try it out! And I really want to thank you for your patience and support- it keeps all the development team members motivated!

We have been so busy on the development over the past few months, and even we updated the Community Chat Room with some short news, we actually missed the blog update… Actually on the last post I told you that we're going to give away some free copies, but I actually didn't finish telling you about HOW you can be one of the 25 people to receive a free full copy of The Piano Encyclopedia.
BUT before I go into that, you might be wondering why this post is called THE SECRET DEVELOPMENT:
…Well part of the answer is because we have been developing so many things I haven't actually told you about! To tell you the truth, I really don't know where to start.
We made SO much incredible progress during the last few months that this project is nothing compared to what it was at the beginning. It's actually bigger and much better!
Even though I've been giving away some hints on our Community Chat Room, I actually didn't want to tell you what we're doing until we had everything worked out, we could actually SHOW you what we were doing, and we were close to give you an invitation to try it out.
So the great thing about all this, is that TODAY, all those three conditions are true, and right NOW, right here, I am going to be able to show you some PREVIEWS of everything we have been doing the last few months!
Stay tight, and I am also going to be announcing on this same post -for the First Time- the OFFICIAL RELEASE DATES, and the DATES of the upcoming EVENTS OF THIS MONTH.
Yes, from now on, we'll be stressing quite much on dates, so you're able to follow the upcoming special release and preview dates for EACH month. You'll also be able to see some changes in our blog layout by next week, as we'll be adding a date calendar, as well as some other features to make date following easier.
To begin, why not start by showing you a screenshot of a sample page of our Piano Encyclopedia?
This is how one of the pages of The Piano Encyclopedia's Scale Dictionary is looking: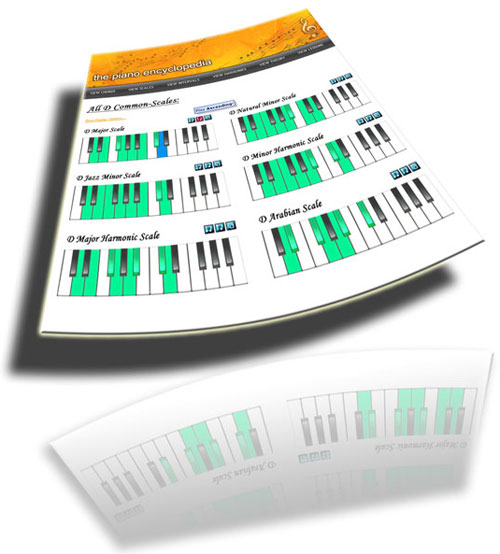 In this page you can see all the D Common Scales, directly from our Scale Dictionary. You can play the scales either up or down, watch the interactive animations, and get detailed info and composing tricks about each one by clicking on the Toolbar Buttons and links.
Please click here to see the image more closely
So what has been going on in The Piano Encyclopedia's LABS during these last few months?
Where to start?
…Well, I say we could start right at the beginning

) . I hope you might agree with that!

You're going to love this…
NOW our project is divided into 3 components. How come three? I mean, up till now I've only told you about just one, right?
So…
Component 1 of The Piano Encyclopedia: The Core

Yes, until now you had just heard about The Piano Encyclopedia itself, our practical guide to composing, improvising, and improving your piano skills, with more than 700 pages, 2500 piano recordings, and 2400 interactive illustrations of piano keyboards.
Just for a short recap, this includes our:
· Interval Dictionary-> every interval explained, as well as their relation with chords and scales.
· Scales Dictionary -> about every scale on the planet and in every root
· Chords Dictionary -> all standard chords and even all of the strange and exotic chords, full of expert's tips for composing and improvising.
· Harmony Guide -> the harmonization of all the included scales, categorized by musical style
· Composing & Improvising Tips-> find out all chords that can be used with a certain scale, typical chord progressions, and chord substitutions.
· Interval, Chord & Scale Finder -> if you don't know what you are playing, simply let the finder help you. Just input the notes and the finder will tell you what scale, chord, or interval you are playing.
This is all looking real good, so I am sure you'd like to take a sneak peak?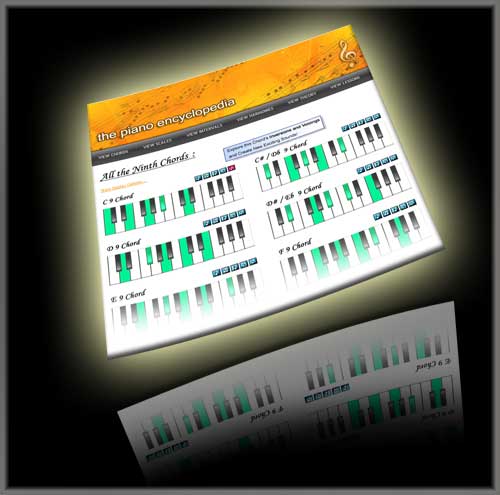 This is an extract of a page from the Chord Dictionary, where you would be able to see all the 12 Ninth Chords. You can play any of these chords, and activate the interactive animations by clicking the toolbar buttons and links. For example, by clicking on the rightmost toolbar button, you can actually explore any chord's Inversions and Voicings, to discover how to create new exciting sounds.
Please click here to see the image more closely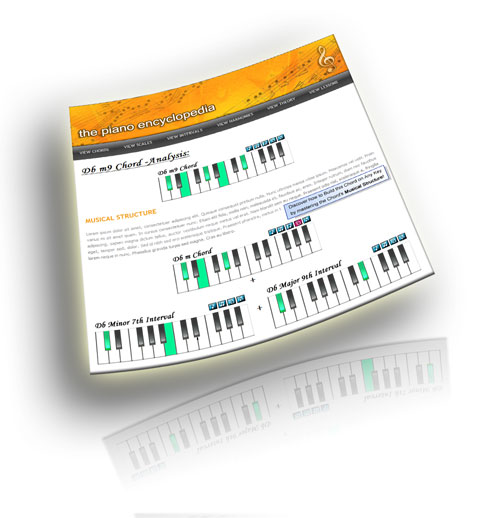 Discover how to Build all the Chords on ANY Key by mastering the Chord's Musical Structure. This sample page, for example, shows you how the Db m9 chord can be built on any key, by understanding the relation between the chord and the music intervals. In this case, we can see that playing a simple Db minor triad and adding and adding a Minor Seventh and a Major Ninth can create the Db m9 chord. Discovering how the intervals and chords relate to each other, you'll find it more easier to master all chords on all keys, and even make your own chords.
Please click on the image to see it more closely
So we have advanced a lot on this, and we're really happy with our progress.
Just to mention it, regarding the Beta-Testing of the previous developments, many people have emailed us asking us if the public beta-testing had already started (as they had seen the Beta-Testers Only sign on our site). However, I just wanted to make it clear that we have posted that sign for the Private Beta-Testing we've been running for team-members' family and friends, to detect and fix the major bugs first. Soon, we'll be going into the public Beta-Testing, so everybody that has signed up to our newsletter will receive our exclusive invitations to test the different developments as soon we go public-beta! (if you've signed up you should be receiving our newsletter, but if you're not receiving it, you can check by re-entering your mail again, and if you're already signed-up a message will tell you so)

However, TODAY, I can say this is just the tip of the iceberg.
The two other components that are now in development and complement everything I just mentioned, and I think they actually take the whole overall piano learning experience to another level.
They are actually closely related together so let me tell you about these two…
NEW! Component 2 of The Piano Encyclopedia: The Main Piano Lessons Course
Even though The Piano Encyclopedia is a practical guide for composing, improvising, and improving your piano skills, we figured out that for some people –especially beginners- it could be difficult to know where to start especially with so much information available at the tip of your fingers.
Also even though all of the above contains many interactive tutorials and explanations of how to harmonize a scale, suggestions of what chords to play given a certain melody, and how to create each of the explained chords in any key, we thought it would be a great idea to create a Step by Step guide, explaining everything from beginner level to advanced to master all the secret tricks of composing and improvising. Now I just call them 'secrets', but as you'll get to see -and actually real soon (I'll tell you why at the end of this post)- these are very powerful music concepts that are really easy to learn but that will probably change the way you see music.
So in this way, The Piano Encyclopedia's Main Piano Course has been born.
The idea is for it to complement the whole reference guide, so that you can master all the elemental scales and chords before going into learning the more exotic chords and scales of the rest of The Piano Encyclopedia.
In this way, the idea is to transmit to you all the necessary knowledge so you can then use The Piano Encyclopedia's Tools to boost all your compositions, improvisations, and improve your piano skills.
The best part of all of this is that the Main Piano Course is actually completely linked to The Piano Encyclopedia itself- meaning that you'll be able to walk step by step through the lessons and with just a click you'll be able to explore any topic in depth by going to the chords, intervals, scales, or harmony pages -from the actual lessons to The Piano Encyclopedia back and forth.
If you don't want to follow the actual lessons and create your own unique path, all the related pages of The Piano Encyclopedia will actually contain recommended chapters of the Main Piano Course lessons for you to read.
I am going to tell you more about The Piano Encyclopedia's Main Piano Course, in the upcoming posts, but before that, let me show you the Third component of our big project!
NEW! Component 3 of The Piano Encyclopedia: The Community
Now I am going to tell you about the Third component, which we have spent several months working on in our Piano Encyclopedia Labs

I am going to give you a quick preview, but let me tell you that this is going to get as important as The Piano Encyclopedia itself, and stay tight cause I am going to show you how this final component ties everything together.
We had been thinking about how to improve our overall piano learning experience and listening to your comments, feedbacks, and mails, and so we created our new The Piano Encyclopedia's Community
What is this all about?!
We're not talking about just a simple Chat Room as we have now.
It's a whole community system we built from the ground up that is completely connected to the previously named components.
That is, the Piano Encyclopedia's Main Piano Course is actually going to be held under our new community. First off this means that not only you'll be able to enjoy the lessons and the interactive components of The Piano Encyclopedia, but also to ask questions to fellow pianists and musicians!
So the new Piano Encyclopedia's Community will be a place for you to share piano experiences with fellow piano students, teachers, composers, and professional musicians.
Even more, you'll be able to share your piano recordings, compositions, and your knowledge - and learn from other pianists in the community.
However what will make this piano community different from any other is that it will actually be powered by The Piano Encyclopedia Engine!
We have created a very powerful technology that actually detects and identifies any music keyword found on text: even any chord, scales, or interval name. What this means is that if you write a question on one of the lessons, or write a comment under the community's forum, all the chord/scale/interval names will be auto-magically converted into their respective piano keyboard images plus their sound! But wait, that's not all, moreover all the music keywords will be linked to the pages of The Piano Encyclopedia itself.
What this means, is that anybody will be able to extend and complement the hundreds of pages of our Piano Encyclopedia, and all their written articles and lessons will be as interactive as The Piano Encyclopedia itself!
You'll also be able to make new friends and have a buddy list, a personal user profile, and share your piano performance recordings and compositions!
Wow! As you can see this is all really big. But the great thing is that thanks to previous months of intense development, TODAY I can tell you that this is no longer an idea, but actually a dream come true for me and the whole team.
We had actually thought of adding this community feature post the launch of the original Piano Encyclopedia, however the community had the potential of adding so much value to the overall piano learning experience that we had decided to work on that now – and it's looking wonderful.
This way, not only will you have tools for improving your piano skills, and boosting your compositions and improvisations, but also a whole community that will support you. A place where you'll be able to share your recordings and show other people your progress, ask questions, and learn from a community that is using the same lessons and tools as you're using.
In this way, as you can see now, everything will be fully connected: The Piano Encyclopedia, the Piano Main Course Lessons, and the Community.
Let me walk you through some of the main features of our new community that are already implemented:
Ask piano and music related questions

to fellow members on The Piano Encyclopedia's

Forum

Enjoy interactive piano lessons

and music-related articles written by members of the community, and interact with them, in the

User's Piano Blogs

section.

Interact with people that love the same stuff that you do,

join the current

User Groups

or create your own: make your own Jazz, Blues, Chopin, Bach, or anything-you-love piano Group, and let people in.

Find people with similar interests

and add them to your

Friends List

. Follow what they are doing, send them private messages, share your posts with them, or even write messages to them on their Profile Wall.
The good thing is that we will open The Piano Encyclopedia Community to you guys exclusively real soon –before the rest of the developments. Apart from you getting to try all those new features, we thought the community would be a great idea to get to know each other, and listen more closely to your feedback and comments, specially using the new forum. Many of you sent me emails proposing to add a Beta-Testers forum, so it will be great to use our new forum, real soon.
I guess it's time for the PREVIEW!!!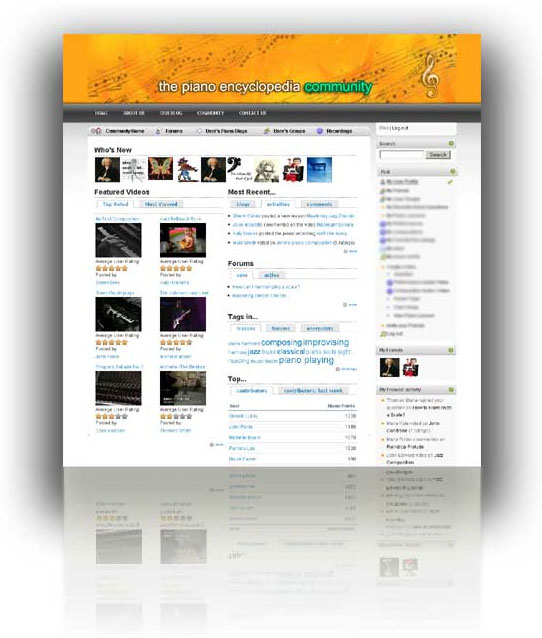 Ask Questions to fellow piano students, teachers, composers, and professional musicians. Share your progress, participate into piano recordings, compositions and composition contests- and learn from other pianists in the community. Make friends with people that are using the same lessons and tools you're using and enjoy user created content.
Please click on the image to see it more closely.
So as you can see we have been making some incredible progress during the last few months, and I hope you agree that the waiting was worthwhile!

I'll tell you more about the Community's exciting features in our next post, and eventually you'll get to try them all!
However, I know that you have been anxiously waiting, and so we have thought a lot about you and how to make your waiting time more enjoyable.
For this reason, we have decided to release from now on periodic PIANO LESSON REPORTS!
The Piano Lesson Reports!

What are these?
These are going to be piano lessons reports that we're going to be releasing every two or three weeks!
While we continue creating the rest of the product and developing the new Piano Encyclopedia's Community, we have decided to release some periodic piano lesson reports so that you can start practicing chords, scales, and get a sneak peek into composition and improvisation tips, even before The Piano Encyclopedia comes out!
These lesson reports will not be releases of the content of The Piano Encyclopedia's Main Lessons themselves, but actually just independent lessons that I'll be taking the time to write myself, while you wait for the Main Lessons to be finished

).
Yes, I'll be writing these lessons reports for you, as my idea is to share with you all the tips from my own piano classes and tell you about the music concepts that changed my piano skills completely during my 14 years of piano playing. As I mentioned previously on this post, I really want for you to learn all those simple but powerful music concepts that really changed my piano life.
We really want to THANK YOU for all this time you have been anxiously waiting, so we hope that these piano lesson reports that I am going to prepare for you, every two or three weeks, make the waiting time shorter and a more enjoyable ride, while we test and finish developing the Piano Encyclopedia's Main Piano Lessons courses, the new interactive Community platform, and all the new exciting features that we've working on the past months.
However the greatest thing of all, is that TODAY I can also tell you that the first Piano Lesson Report is almost ready, with now more than 35 pages full of content and tons of graphics!
So stay tuned, as the first Piano Lesson Report will soon hit your inbox!
We'll be announcing the exact release date of this first Lesson Report this Friday 19th, but I'll assure you'll get a copy before two or three weeks from today.
As you might have read in this post, we'll be stressing quite much on dates from now on, so let tell about the upcoming ones…
The Official Release Dates

So many people have sent us emails about this and sent us tons of emails about this.
Therefore, we have decided to publish for the first time an OFFICIAL RELEASE DATE!
19th of September (This Friday): We'll be posting the next blog update and I'll be announcing the exact date of the release of our Piano Lesson Report! Remember I assure you that you'll have it in your inbox in less than two weeks, but on this Friday we'll announcing the exact date!
I'll also be telling you more about our community and the main lessons, and show you more previews on everything we've been developing. We'll be also making an update on our blog layout by adding a calendar so you can keep up with the upcoming dates and events more easily!
December 15th of

2008

: date for the OFFICIAL PIANO ENCYCLOPEDIA RELEASE.





UPDATE

: Given the incredible feedback we have received about our Music Fundamentals eBook (You may read some VERY intresting comments from fellow pianists here) we have been greatly inspired and decided to focus first on releasing the Piano Encyclopedia's Main Piano Lessons,

before

we release everything else.  In this way, during the last months we have worked on expanding our lessons with new sections and new interactive tools (you may read an update here) so as to include everything necessary for mastering composing and improvising – step-by-step – from beginning to advanced. And the great news is that they are looking absolutely great, and at this point, we expect to be releasing them very

very

soon

!
Today, I invite you to reserve your FREE copy of our 100 page eBook "Music Fundamentals". Yes, we are giving it away for free, as we want to THANK YOU for all your support, and since we definetely want to make your waiting time shorter as you wait to enjoy each of the components of the Piano Encyclopedia's Piano Learning Experience.
Stay tuned for more freebies, and beta-invitations along the way!

But now- take a sneak-peek inside our "Music Fundamentals" eBook and grab your free copy:

(End of Update: continues post of September 12th)

Regarding how to get 25 free FULL copies of the final version of The Piano Encyclopedia once everything is finished, I can only tell you by now, that this is going to be related to a contest we'll run on our new Community!
So stay tuned and really THANK YOU for all your support and following the Piano Encyclopedia development.
All you comments and feedback we'll be more than welcome so please make sure to write a comment in this post.
I would also love to get to know you better, so it would be great for you to tell me:

How long have you been playing piano?


Or are you looking forward to it?

What are you most interested in learning?

Which music styles, composers, or music groups are your favorite?

I an really intrested in meeting each of you, so stay in touch and tell me more about you by posting a comment!
Stay tuned for next update on this Friday 19th!
Cheers!
Best wishes,
Rod
P.S: If you haven't subscribed to our mailing list yet, you may do it here and I'll make sure you get the First Piano Report in your inbox -real soon!

)